Welcome to CobbleStone Crossing, Elkhart County's premier neighborhood shopping destination.
CobbleStone Crossing is the area's first integrated commercial project. This unique shopping experience offers customers a "one-stop-shop" location to fulfill their daily consumer needs. The pedestrian friendly design and distinctive architecture create a pleasant shopping environment.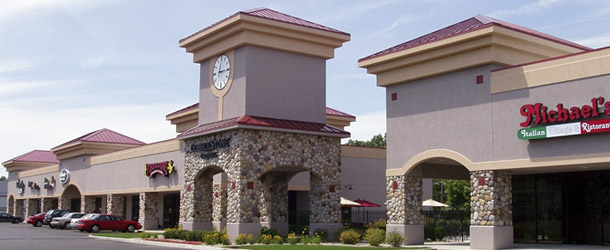 CobbleStone Crossing is home to a 60,000 square foot Martin's Supermarket and a variety of fine shops and restaurants.
These include: Interior Motives Home Decorating, the UPS Store, Fringe Salon, Tiki Tan, Kirt's Cleaners, Martin's Fuel Center, and Martin's Paw Mart. Bacon Hill Kitchen and Pub and available restaurant spaces surround the 40-foot central clock tower and outdoor patio area. The outdoor patio area is unique to the Elkhart area and provides a pleasant atmosphere to enjoy fine local dining.
So, whether you're buying groceries, going to the bank, fueling your car, picking up carry out, or dropping of the dry cleaning, whatever your daily shopping needs, you will find it all CobbleStone Crossing. Contact us today for more information.
CobbleStone Crossing is located in the heart of Elkhart's northeast neighborhoods.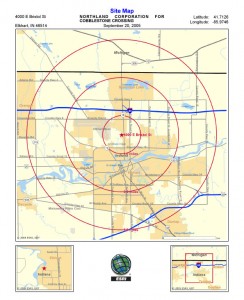 4000 East Bristol Street | Elkhart, IN 46514
Presiding at 4000 East Bristol Street, CobbleStone Crossing boasts exceptional demographics which include an estimated population of 51,000 customers and nearly 22,000 housing units within a three mile radius.  The demographics are so good that Martin's Supermarkets expanded their original 1996 store from 40,000 square feet to approximately 60,000 square feet, the maximum size for the location. Further, Martin's developed a fuel center/carwash and opened their flagship pet store, Paw Mart.  While traffic counts are estimated at 13,000 cars per day, the nearly ten neighborhoods within three miles account for a steady stream of customers.
CobbleStone Crossing
is designed as an integrated development project – a commercial hub servicing a large residential area.  The businesses complement and integrate with each other providing customers with a daily selection of different shopping choices.  The pedestrian friendly design of the area and within CobbleStone allows local residents to walk, bike, or drive to the center.