Offering an innovative blend of state-of-the-art business infrastructure, services, and amenities
Imagine a 1,400 acre master-planned development dedicated to the pursuit of commerce. Located in Elkhart, Indiana, and strategically situated adjacent to Interchange 96 on the Indiana 80/90 Interstate Highway System, Elkhart East is well served by major highways, offering exceptional accessibility to major transportation routes. This premier location has created excellent commercial real estate opportunities for companies looking to expand or relocate into a state-of-the-art business community.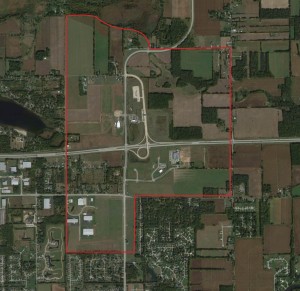 Elkhart East's easily accessible, convenient, and highly visible location enables corporate residents to attract the best technical and professional workforce necessary to be successful in today's highly competitive business environment. Centrally located in northern Indiana, Elkhart East is on a direct route to Chicago from Boston, New York, and Washington, DC. Interstate 80/90 has a direct Exit (96) at Elkhart East.
The Business Community is minutes from the Michigan state line for access to the upper Midwest and Canada. Norfolk-Southern's nearby Robert Young Yards in the City of Elkhart are the world's largest freight classification yards. Thirty national trucking firms serve the area. The City of Elkhart's private airport is only minutes away and the South Bend Regional Airport is less than 30 minutes away.
The Concept Land Use Plan, Illustrative Master Plan, and Development Standards for Elkhart East have been designed by Camiros Ltd, a Chicago-based land use, zoning, and landscape architecture consulting firm. The Land Use Concept Plan has been approved by the Elkhart County Commissioners as the development overlay for the Elkhart East Business Community.
The Illustrative Master Plan reflects a more detailed overlay for the development. The master plan is conceptual in nature and subject to alterations based on changing market conditions.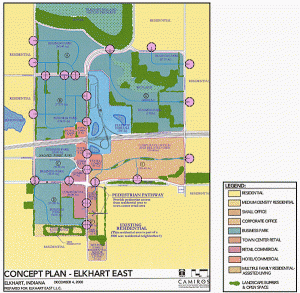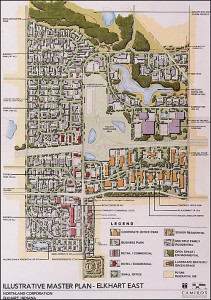 Elkhart, Indiana, is a vibrant center for entrepreneurial activity and commerce.
The community of Elkhart has established a national reputation as a vibrant center for entrepreneurial activity, with a strong, independent workforce. Twelve of the Top 100 public and private companies in the State of Indiana are located in Elkhart and the community is consistently ranked among the top industrial markets in the entire country. According to the CB Richard Ellis' 2000 Market Study, "Elkhart County leads Indiana and the nation as one of the markets that is dominated by employment in manufacturing." The Elkhart East Business Community has been designed to capitalize on the strengths of this well-established manufacturing and entrepreneurial base by offering a premier location for new large and small-scale commercial, industrial, and corporate users.